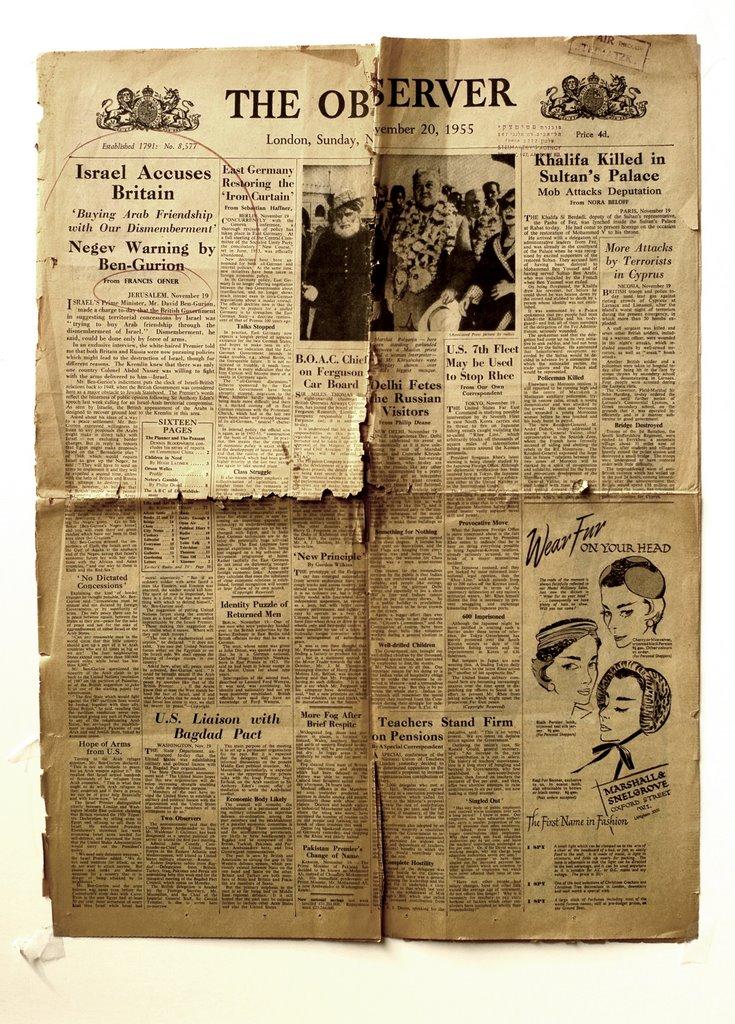 Dr. Francis Ofner, Chairman and founder of the FPA
Diplomat, scholar, journalist: He was Axel Springer's man in Israel. Ofner was born in 1913 in the erstwhile Hungarian town of Ujvidék, which - as Novi Sad - is now the capital of the Yugoslav province Vojvodina. The lawyer, who had studied in Zagreb, Besançon and Lausanne, was - after his emigration to Palestine and thereafter in the newly founded State of Israel - diplomat, press correspondent, and even a university teacher. Always, however, Ofner's special affection belonged to journalism. In 1957, he founded the Foreign Press Association in Israel. As a kind of "roving reporter", but with intellectual depth, he reported from many countries in Europe, Africa, Asia and North America, until he settled down in Israel. Before becoming mainly the correspondent for the papers of the German Axel Springer publishing house, he worked for the Christian Science Monitor and the London Observer. From Die Welt, see full article in German. Francis Ofner passed away in 2011 in Tel Aviv.
The Birth of the FPA in Israel
By Dr Francis Ofner, Chairman 1957 – 1959
It was almost a half-century ago that 32 members of the foreign press gathered at Tel Aviv's seaside Armon Hotel for their inaugural luncheon.
Israel was a different country then. Its society and economy have grown, as have its problems, and as has the FPA. But our mission remains much the same as it was back then, on May 14th 1957
Here's something else that hasn't changed: Shimon Peres was the guest.
The birth of the FPA – no offspring of love – can be traced to an altercation that focused my mind some two years before.
Interviewing David Ben-Gurion for the London Observer, I heard the prime minister lash out at Britain's Anthony Eden for suggesting Israel allow Egypt and Jordan a corridor through the Negev. It would have strengthened then-enemy states and cut off Israel from its outlet to the Red Sea. Ben-Gurion was outraged. "Both Britain and Russia were now pursuing policies which might lead to the destruction of Israel, though for different reasons…" he said.
After the meeting an official who sat with us asked to see me and, in my hotel room, went over the article with dismay. "You cannot send it this way," he said.
"What do you mean ? Did he not say that ?"
"He did. But he was excited. You have to tone this down."
It was not my task to censor the Prime Minister, I replied.
"You know, I can arrange that you be arrested!" the official snapped.
I sent the story unchanged, and the front-page headline could not have pleased the official: Israel Accuses Britain: "Buying Arab Friendship with our Dismemberment."
News agencies picked it up, leading papers in Israel to do the same, causing uncomfortable questions in the Knesset. Was he misquoted, Ben-Gurion was asked. From the press gallery I listened with interest.
"I was correctly quoted," the Old Man replied. "This is what I said."
And I was not arrested – but the need for an association to safeguard the rights of the foreign press and represent its members was becoming plain.
Events soon distracted our attention, but by early 1957, the Sinai War story was cooling down and felt the time had come. I began campaigning among colleagues to cease fighting the Goliath of Israeli officialdom in isolated separate battles and join forces instead.
We needed a Founding Committee of colleagues to help me push the idea.If you wanted your group to carry weight in Israel, you had to appear either in large numbers or be supported by a political party. We were neither. And not all of our colleagues approved from the start either.
The head of Reuters bureau in Israel, Arie Wallenstein, was one who was doubtful.
"I do not need it. Neither do you. Both of us have open doors to whomever we need."
Represented Reuters, he may have been right. But others needed it without a doubt. And after some persuasion, Wallenstein became one of the most active organizers, even served as chairman in 1967-68.
The second colleague I appealed to was German newspaperman Rudolf Kuestermeier. He had spent most of Hitler's rule in Nazi prisons and concentration camps. When Britain's forces freed him from Bergen-Belsen, they appointed him editor of "Die Welt." Though offered high positions in his own country, Kuestermeier preferred to come report from Israel. I saw that he was moved by my proposal.
The third recruit was Fabien Lacombe of Agence France-Presse, who had fought in the French underground during the World War II. He agreed without hesitation as well.
Then came Eliahu Salpeter, an Auschwitz survivor, then of the Jewish Telegraphic Agency, and later of Haaretz.
This founding committee did its job, and the Constituent Assembly met in Tel Aviv's ZOA house to form the first Foreign Press Association in Israel on May 9, 1957.
A set of proposed rules were discussed and voted upon paragraph by paragraph. A system of elections – still in place – was established.
And the following Board emerged: I was elected chairman (or, as we ambitiously called it then, "president"); Lacombe vice-President; Golda Zimmerman ( London Jewish Chronicle) Honorary Secretary , Eliahu Salpeter, Honorary Treasurer. Roy Elston (The London Times), Seth S. King (The New York Times) and Arye Wallenstein (Reuters) were the three additional Board Members chosen by the Assembly.
The names, addresses and telephone numbers (there was no fax or e-mail then) of the 32 founding members was published three weeks later. This list was sent out to Knesset members, government offices, spokesmen, Chief Rabbis, Israeli newspapers add major civic organizations – another practice that remains.
Interestingly, not a single photographer appears on the list. I believe the reason was that none of them worked predominantly for the foreign media at that time – a condition for membership.
Shimon Peres, the defense ministry director general, was our first guest. The lunch with him was a success, and we agreed to hold similar meetings every month if possible.
The very next month our guest was the prime minister.
Unlike in more recent times, journalism was not yet considered a coarse occupation. Since Ben-Gurion wrote occasional commentaries in the Labor Party's periodicals, he introduced himself to the one month old FPA as "a journalist" as well.
As chairman, I welcomed our "colleague" and added: "We feel honored by the Prime Minister's statement that he belongs to our profession. In writing he indeed surpasses many of us. In one thing however he does not share our fate: he is not disturbed by the censor…"
BG did not react – but the chief censor, Col. Walter Baron, whom we also invited, did. He smiled, and invited me the same week to hash out our differences. Then, as now, dealing with Israel's military censor is a delicate affair.
Normally we battle for the right to publish – but I also appreciate the circumstances that may make it sometimes essential. For those of us who went through World War II, it is frightening to think of the consequences had television existed then and shown the American public the brutal images from the front. President Roosevelt might have faced pressure to pull out. Nazi Germany could have won. There would probably be no FPA in Israel – or Israel.
Arranging the luncheons, then as now, was often a delicate business too, and it sometimes took unexpected turns.
Since we had invited diplomats to speak to our lunch meetings I did not want to discriminate against the Russian ambassador. I asked Sergei Losev, correspondent for TASS, to ask his ambassador to be our guest.
A fortnight later, Losev invited me to lunch – at a restaurant was outside Tel Aviv on the way to Ramleh. It appeared he did not want us to be seen together. And instead of talking about his Ambassador, he tried to recruit me as a Soviet spy.
His failure in this effort was forgiven, it seems: after leaving Israel he became the head of TASS.
Beyond the meetings, the usefulness of FPA was evident enough. Our working facilities improved; government communiqués and other news sources reached us quicker, disputes with censors and other officials became less arbitrary. At a time when bureaucracy restricted many aspects of people's lives, the FPA was able to secure special foreign currency rates, exit visas and the like for its members.
During the 1977 peace talks between Israel and Egypt, for example, Foreign Minister Moshe Dayan decided that holders of Israeli passports – which included some of our correspondents – would be blocked from traveling to Egypt. FPA Chairman Gideon Berli of DPA encouraged some members to appeal to Israel's Supreme Court. Yuval Elizur (Washington Post), Shabtai Tal (a press photographer for the German media) and Hazy Carmel hired a lawyer and won the case.
The FPA then hired an Arkia plane and flew with about 55 members to Cairo. It was the first Israeli plane to land in Egypt in the 4,000-year relationship between the two nations. Begin's was the second.
The FPA now has more than 400 members, and the problems of the press in Israel, and the West Bank and Gaza, and perhaps more complicated than ever. Recent chairmen have had to handle a rambunctious, sometimes egotistical crowd.
Recently, the position was occupied by Conny Mus (1990–95); Nick Tatro of AP (1995–99); Howard Goller of Reuters (1999– 2001), Dan Perry of AP (2001-2004) and Andrew Steele of the BBC.
My role in founding this organization was an exciting and rewarding episode on the civic side of my professional life. But in truth, I would be ready to trade our international media importance for the situation longed for by Moshe Sharett, Israel's first Foreign Minister, who told me: "I look forward to the day when the State of Israel will be mentioned in the international media as often as Denmark." .