2013



The FPA is shocked and appalled to learn of the death of SKY News cameraman Mick Deane while on assignment in Cairo this morning 14.08.2013. We wish to express heartfelt condolences to Mrs. Deane and family as well as to his friends and colleagues.
This is what Sky has said.
Sky News cameraman Mick Deane has been shot and killed in Egypt this morning.
Mick had worked for Sky for 15 years, based in Washington and then Jerusalem.
He was part of our team covering the violence in Cairo. The rest of the team are unhurt.
The Head of Sky News John Ryley described Mick as the very best of cameramen, a brilliant journalist and an inspiring mentor to many at Sky.
Sky's foreign affairs editor Tim Marshall called Mick "a friend, brave as a lion but what a heart. what a human being", adding he was "humorous and wise".
Prime Minister David Cameron tweeted: "I am saddened to hear of the death of cameraman Mick Deane, covering Egyptian violence.
"My thoughts are with his family and the Sky News team."


Ilene Prusher on Mick Deane http://www.haaretz.com/blogs/jerusalem-vivendi/.premium-1.541806
Sadly the FPA heard only today of the passing of veteran member Samuel Segev . Segev wrote a weekly column for the Winnipeg Free Press and published seven books, including The Iranian Triangle and Crossing the Jordan, Israel's Hard Road to Peace.
His last book, Eli Cohen, Alone in Damascus, was published two weeks before his death in August 2012. The Tel Aviv Journalists Association are holding a memorial meeting in his honor on August 8th at 6pm at Beit Sokolov in Tel Aviv.
In memory of Douglas Hamilton by Alastair Macdonald , Chief Lead Writer from Reuters representing the company at a memorial service held in Israel on January 3rd 2013, also added a personal note including an elegy written for an unnamed friend by Robert Burns:
Doug was a citizen of the world; he would be neither unhappy nor surprised that he should end here, so far from where his life began. But he forever carried in his voice the echo of a small, northern country, would tell whisky drinkers from Acre to Zagreb that 'hey, I come from where they make this stuff'. These words are from that home, from another great Scots writer who also knew about speaking up for the little guy:
"An honest man lies here at rest,
As e'er God with his image blest;
The friend of man, the friend of truth,
The friend of age and guide of youth.
Few hearts like his with virtue warm'd;
Few heads with knowledge so inform'd.
If there's another world, he lives in bliss;
If there is none, he made the best of this."

Images for Douglas Hamilton, Reuters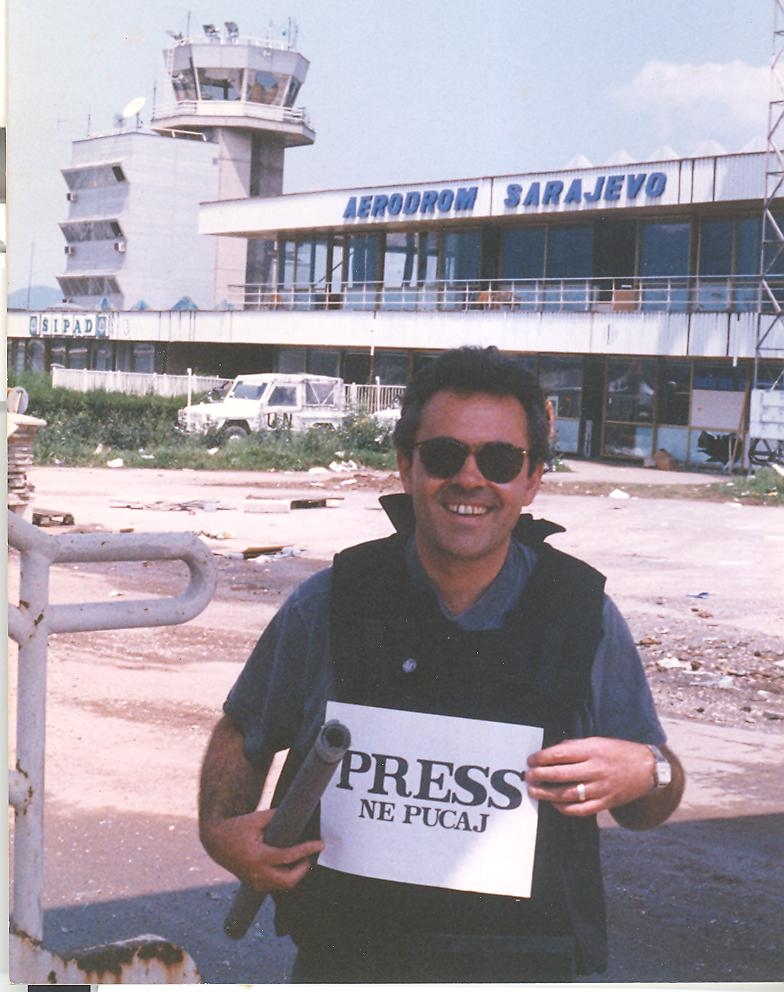 1947 - 2012

Douglas Hamilton, a veteran Reuters reporter and one of the finest foreign correspondents of his generation, drowned on Christmas Eve after going for his daily swim in the Mediterranean. Israeli paramedics spent 40 minutes trying to revive him on the beach, but to no avail.
Doug had worked with Reuters for more than 30 years, most of them spent abroad in a variety of postings, including in France, Germany, South Africa, Yugoslavia, Austria, Brussels and lastly Israel and the Palestinian Territories.
He was an exceptional reporter and a quite wonderful writer. He had the rarest of abilities to tell big-picture stories through the eyes of ordinary people. As his old friend and colleague Paul Taylor said: "Whether in the Balkans, in the Middle East or in Germany right after the fall of the Berlin Wall, Doug captured the sweep of history and the ugliness of man's inhumanity to man in raw prose. He was a false cynic with a real heart of gold."
Some of his most remarkable work came during the various Balkans conflicts, where he reported courageously from the frontline to bring home the horrors of that vicious civil war. Here is the lead from a story in 1995: "Some Croatians will be lying on beaches this weekend. Others may be lying in unmarked graves. It depends where you go." If he had worked for a major newspaper back then, he would no doubt have been a famous, Pulitzer-prize winner. One New York Times correspondent said she always carried one of his stories in her purse to remind her of why she got into journalism.
During the NATO bombing campaign of Serbia in 1999, Doug was based in Brussels. His daily grilling of the NATO spokesman Jamie Shea provided a masterclass to junior reporters on how to take on officialdom and cut through the clutter of mind-numbing jargon to find the real news.
But it wasn't all wars and mayhem. He also showed his value and originality in utterly different beats – such as when he covered the Olympic Games in 2004 and 2008, writing with wit and elegance about everything from dressage to synchronized swimming. Some of his finest stories never saw the light of day because they were simply too original or outspoken. I remember with particular fondness a pastiche he wrote about wrestling in the 2008 Beijing Games written in the style of a Damon Runyon short story. Or a piece during the Second Gulf war where he ferociously pierced the sanitised language of the U.S.-led coalition as it blasted its way through Iraq. I always kept a copy. "In capitals, mouthpieces so practised they have forgotten they are lying cannot wait to get before the cameras to work their spin. But they cannot disguise the fact that they do not really care, that they relish their performance above all. We tolerate this blatant hypocrisy because we are inured to the slick phrasing of the television age. We don't listen, we watch. Our opinions are formed by osmosis."
Such a fiery spirit was sometimes hard to contain within the four walls of a news agency. I, like many of his previous managers no doubt, received the occasional email threatening imminent resignation because of the way one of his stories had been handled, or spiked. The trick was to wait an hour, then pick up the phone and talk about some new story ideas. He liked to appear grumpy and gruff, but it was often just a veneer. Infact he was one of the most generous and open correspondents I have worked with. He was always free with knowledge and adored mentoring young men and women starting out in the profession. He would rework their prose with the same passion that he would craft his own sentences, improving any story that he got his hands on, bringing to it the sort of originality and flair that very, very few correspondents could ever aspire to.
It was not always easy. Doug broke his back in a road accident in the Gulf and had to be medevaced home. He later got injured in a bomb attack in Algeria – severely injuring his toe as he rushed out of a nearby building to witness the carnage. He needed surgery to put it right. He also survived cancer in 2008, writing about it for Reuters with his typical blunt honesty. He bounced backed and became astonishingly fit. He was 65, but no-one would have guessed it without triple checking his passport. When the Israeli police first reported his death, they said that they had found a 40-year-old man. Doug would have loved that, but then have demanded a correction.
Wherever he worked, Doug left behind a thicket of cigar stumps and a welter of friends. As Michael Stott wrote: "Unpredictable, volatile and innately anti-establishment, he was every reporter's ideal mate and a (rewarding) challenge to every editor".
He leaves a wife and son and will be sorely missed by all who knew him. The funeral arrangements have yet to be decided and will be announced at a later date.
Crispian Balmer
Bureau Chief, Israel and Palestinian Territories
Alastair Macdonald Dec 29, 2012 7:00 AM
Thank you, Crispian, for finding the words to speak for all of us at a very sad time. As you say, these things stand out: his surgical ability to slice out the crap and get to the story; writing of a concision and zest no one can match; and a passionate interest in the lives of others that made Doug not just a reporter among the greats but also a superb mentor, charming company and a good friend.
He made those televised NATO news conferences a lesson for all of us on how to avoid being co-opted into flying the home-team flag in times of war.
It has always been a thrill to read whatever Doug wrote. His inventive gift for the language would tease the cautious boundaries of agency style to inform, delight and, every so often, incense. His ability to channel Damon Runyon - or Sean Connery - was uncanny. Some of the best stuff never reached a wider readership; sometimes it just pushed too far toward opinion - though his targets were never this side or that but always the common enemies of mankind - cant, deception, vanity, bigotry, stupidity or sheer inhumanity; and sometimes we colleagues underestimated readers' ability to appreciate Doug's deftly woven cultural references. Given his head at the Athens Olympics, Doug wrote some of the most memorable prose ever to grace the Reuters wire, and if you'd never seen Rawhide or Doctor No or Wayne Gretzky in his Edmonton Oilers days, well, he still got you reading. Among my favourites was this:
Transfixed by four-legged Fred Astaires
ATHENS, Aug 15 (Reuters) - In Rawhide, Rowdy Yates would rope the maverick steer and tie off to his saddle horn. He'd swing his leg over and step down and then that big, mean longhorn would heave up and try to slice him right open. "Back up!" Rowdy would yell to his horse, and there would be a whirl of dust and white eyeballs and the rope would twang tight and that steer would hit the dirt, whump, for keeps. "Easy boy," Rowdy would whisper. He'd swipe his stetson on his chaps and mutter: "Best damn quarter-horse a man ever had." Remember that? Well, this isn't the same. This is Equestrian Dressage (they say it like we say massage) at the Olympics, so the horses here have cooler haircuts and sharper suits than Will Smith. They're worth nearly as much. The people sitting on them wear gloves and tight white pants and top hats and tail coats. When they start moving it's like watching a four-legged Fred Astaire, without the spats. They have to go through different paces. These are what the layman might call the mosey, the amble, the strut and the prance. They also go sideways and backwards. But unlike Rowdy's horse tugging on the rope this is more like parallel parking ... A respectful hush falls as a guy looking like Karl Lagerfeld rides into the ring and doffs his hat to the judge, a man in a Panama hat who clangs a ship's bell to get things going. "Ladies and gentlemen, please refrain from applauding until the rider has left the ring," says an Olympic dressage marshal. The crowd politely applauds this order. Mr Noppus - this is the horse's name - goes off right, along the boards, like Wayne Gretzky taking an opening cruise around the ice. Whinnies come from the stables down the hill, as if the other horses are saying: "Check this out..." But then it's like Gretkzy starts doing compulsory figure skating. Lots of us, when we were kids, wanted to be cowboys. But this horse is, well, dancing.
As Barry recalls, one of those 'here's a sport you won't have seen' stories, about the women's triathlon in fact, not the beach volleyball, caused more than the usual quota of raised eyebrows at head office, though speaking as the desker who filed it (not 'intimidated', just impressed) I must say many critics seemed to miss the derision Doug poured on the macho neanderthals and his patent admiration for the athletes:
Down by the beach, a slow-witted security guard who looks like Arnold Schwarzenegger in Roy Orbison sunglasses thinks it's cool to make a puerile remark to his buddies about lip gloss. What does he know. These women run the race that puts the gruel in gruelling. They don't whine, they don't quit. Get out of their way.
Doug's energy and appetite for the story were summed up by the way, at an age when others were retiring, he rushed to sign up for a gruelling new assignment in Jerusalem, not to while away his time in an office but to get out among people, talk to them and write their tales. He was among the first outside reporters to get into the Gaza Strip after the Israeli invasion of January 2009, where he filed copy like this piece, bringing historical sweep from the lives of those he spoke to: Stoic Gaza claws back, to what passes for normal . Just last month his reports on the latest Gaza war were as sharp and humane as ever Doug was, and we last exchanged mails about a classic piece of Hamiltonian observation and wordplay from the seaside doorstep he had come to relish: No panic for old men, watching Gaza rockets by the Jaffa shore.


Nidal Al Mughrabi Dec 29, 2012 9:07 AM
Douglas has just arrived in Gaza when he asked me "do they sell iphone 5 in Gaza?" that was two months ago. I told him some vendors do sell iphone5 they bring into Gaza from Dubai, to Egypt and then into Gaza through tunnels along the border. We went together and he wrote a story about the fact blockaded Gazans got their iphone 5 units before it is even existed in Israel. The story got a wide play in local and international media and everybody else raced to match the Douglas story. His fine art was in his simplistic approach towards a story. Writing was something he enjoyed like smoking his cigar and playing with his mobile phone.
I sat with him once in Dira hotel where he had spent two nights in October and he snapped a photo of me while he played with his cellular phone and he e-mailed it to me while I sat at the same table with him. I liked the photo so much and I posted it on Face Book and many people liked it. One friend commented: "Is this place in Gaza?" her comment showed how nice the picture was. Douglas was a great man, a great mentor. I will miss him alot when I do an analysis story or a feature. I will miss his guidance.
In one place we were together and I stood aside as Douglas interviewed some people for a story, I have never enjoyed being with another journalist in action like I did with Doug that day. He was like a teacher. Every question was a lesson for me on how to squeeze people and officials to get the juicy and useful information, how to cut short all the false and unnecessary introduction. Goodbye Doug and may your soul rest in peace.

Thomas Perry Dec 29, 2012 1:17 PM
I had the privilege to work with Doug in Israel and the Palestinian Territories for two years. He was a great journalist and a great colleague. He was also great company. For me, his approach represented the essence of the job: filter out the spin and waffle and tell the story as concisely and stylishly as possible. As a colleague, Doug was always generous with his time and advice, and there was always a lot to learn from someone who was a true master of his craft. He was also a kind and thoughtful friend. He once arrived at my home in the West Bank on a freezing winter's night with a car full of empty cigar boxes he'd brought from his home in Jaffa so I could use them to get the living room fire going.
Former Reuters colleagues have also been shocked and saddened by his death. Jonathan Wright fondly remembered Doug as "one of the smartest" journalists he encountered during his three decades at Reuters. "Not easy to fool," he said. Joseph Nasr, a former Jerusalem correspondent, said: "Doug was a great mentor and friend, who shared his vast experience with young journalists like me. He was by far the most original writer at Reuters."
Doug will be sorely missed. It was a real honour to know him. Tom Perry Cairo

Ori Lewis Dec 29, 2012 2:02 PM
Doug was one of the few people I have known who always managed to maintain a youthful outlook and demeanour while having the benefit of hindsight from his vast life experience, both personal and as a journalist.
Being around Doug made me want to be as youthful as him, even though he was more than 10 years older than me.
I think I may have been the last -- certainly one of the last -- people from the Jerusalem bureau to speak to him. It was hours before he left for a vacation at his home in early December. We discussed where he might buy some weights that he wanted for his fitness training. I suggested a shop and when I next passed by it to ensure that they had what he wanted, I told one of the shop assistants that my friend would probably come by in a few days.
Doug was a truly fine writer and when working on others' stories would always see straight through the extraneous information (he would have called it bullshit) and would have crafted something far superior.
Not to be able to call on him for advice or discuss the latest news, both local and in the UK, or share a quip about a witty British newspaper headline, or to just discuss mundane matters is something that I will miss greatly.
For one who lived such an adventurous and interesting life, who worked in some of the world's most dangerous conflict hotspots, the end could not have been more cruel and different from the life he led. As one who undoubtedly knew well the stretch of beach which claimed him and who, as an older and more experienced person, knew not to take unreasonable risks, this monumental tragedy teaches us all that the sea can be the cruellest and most unpredictable of places. It is a lesson I know he would want us all to learn.
I am proud and honoured to have been Doug's friend -- it is something I know I share with so many other people. Indeed, I can't imagine anybody who knew Doug and did not count him as a friend. His generosity of spirit and faith in his fellow man just made him the sort of person you always wanted to be around.
Rest in peace Doug, I will miss you and will always remember you.
Ori Lewis, Jerusalem

Allyn Fisher Dec 29, 2012 2:53 AM
I keep thinking Doug will phone up any minute with some characteristically laconic expression of outrage at how officials of any sort would dare to report him as dead. That's how difficult it remains to believe that Doug, of all people, has so suddenly met his demise. It's so ironic, not to mention, tragic, for the sea to have claimed him after all the health troubles he has recently weathered and overcome.
How often does one have the privilege of associating with so talented a guy who's a great colleague, mentor and boss all rolled into one?
I'll always hear Doug's voice issuing his typically blunt, spot-on directive about writing a news lead. "You have to hit them over the head with a two-by-four," he would say. "Save the qualifiers for later." This lasting legacy compensates little, though, for the loss of one of the most brilliant people I've ever come across in this business. On top of being an amazing writer always at the ready with just the right catch-all phrase, Doug was uncanny in his ability to see past any and all spin served up by warring sides or rival political groups.
Alongside his incisive coverage of conflicts far and wide, some of what may arguably have been some of Doug's best writing never got published. In Doug's memory, I'd like to share an excerpt of an elaborate take I believe few other people have ever seen, that he once wrote up about the security labyrinth he had to navigate during a 2009 papal visit to Jerusalem. I'm glad to have managed to unearth this gem from an archive of way too many emails I've stored on the office hard disk. Never actually intended for the file, Doug drafted this missive just to get a few thoughts off his chest, he said, while sitting through some ceremony or other during the pontiff's tour.
Here are just a few paragraphs of what I found a most memorable account, shared with you for posterity:
"On the 2nd day of the Pope's visit to Jerusalem he was to pray at the Pool of Regret and I was assigned to cover it. But there was a problem at the Israeli security barrier. Two 17 year olds with bad suits and big guns making lumps under them wanted to look at my passport and they saw a Moldova stamp in there somewhere and they said Step Aside into the Security tent. I explained I couldn't do that or I'd miss the prayer at the Pool of Regret. They said that was not their business and they called on their walky talkies and made me wait. Then a 19 year old guy in a bad suit came and he had a transparent ear piece in his ear and he kept nodding. He said Step Aside into the security tent. So I hurried in there and they told me to take my clothes off and undergo an explosives swab. Which I did but they were slow about it and during that my laptop beeped and I had mail. It was from the government press office and it said: You have failed to log into our site for your Hourly Accreditation Renewal. Your accreditation is hereby revoked and the chip in your badge now indicates you are not accredited and will be subject to removal from restricted areas. The clock was ticking and I was starting to panic that I'd miss the event and lose my job. A curly-haired girl with a machine-gun said I should just log in to reapply and it would be fine. But the site was down and a notice said You May re-apply on Monday in person at our offices. Bring your passport. So then I was really worried. But suddenly out of the crowd came a 2,000 year old woman, and she had an accreditation badge. She had a really kind look and no gun, and she took me by the elbow and said Worry not. She took off her badge and put it around my neck, but strange thing, she still had one around her neck too even after that. Well, anyway we hurried through the crowd to get to the Pool of Regret Bus D-7 which was correct. It said so in the Pope's Visit media guide book on page 148. "What shall we do without you, Doug?
Our dear friend Cordelia Edvardson has passed away in Sweden. Cordelia was a mainstay of the Jerusalem press corps for many years, known for her inability to let bullshit get by her. Greasy politicians and slick officials hated and respected her. Yet that was only part of her complex makeup. She had a number on her arm that largely defined her. The horrors of the Holocaust drove her to work incessantly to keep the demons down. But that wasn't all of Cordelia, either. She was a close, warm friend, hosting our fun, low-stakes poker game, ready with a kind word in times of trouble. They made only one Cordelia, and now she's gone. I miss her already. Mark Lavie, Cairo.


Cordelia Edvardson was a collegue who did not accept nonsense from anyone, regardless of rank and position. She had the respect that she so richly deserved also from the many ministers and high ranking officials who had reason to be afraid of her sharply pointed questions and the often implied criticism. She was a tenacious journalist, a pugnacious defender of human rights, a person fun to be with, a good friend, a colleague always ready to help and also an indefatigable poker player. German born and Holocaust survivor Cordelia wrote also a touching autobiography that became an international bestseller.
When I arrived in Jerusalem in the late seventies and was taking my first steps as a young and inexperienced foreign correspondent, Cordelia was already a pillar of what was at that time a closely knit community of foreign correspondents. We became friends and I remember her with fondness. We old timers, who knew her well, will miss her very much. Giorgio Raccah. Ramat Gan


Veteran FPA member Cordelia Edvardson, was the correspondent for the Swedish newspaper Svenska Dagbladet.
http://www.svd.se/nyheter/inrikes/cordelia-edvardson-har-avlidit_7625918.svd

In 2005 Cordelia was the subject of a 1 hour 16 minute documentary film by noted filmmaker Stefan Jarl called, ''Flickan fran Auschwitz" ("The Girl from Auschwitz"), which combines Cordelia's personal history as a Holocaust survivor with the Israel-Arab conflict she has covered for many years. The documentary, in Swedish with English subtitles, was featured at the Mill Valley Film Festival in California. Once again, our congratulations to Cordelia, one of our most-decorated members.


Former FPA member, Michael Rosenbaum, an award-winning CBS News producer who served as Tel Aviv bureau chief during the first Palestinian uprising against Israel, has died. He was 64. CBS News reports that Rosenbaum died Thursday 17th May in New York of a brain tumor. Rosenbaum collaborated with correspondents Bob Simon and Dan Rather on stories in the Middle East while Tel Aviv bureau chief from 1989 to 1995. His field producing played a key role in coverage of the assassination of Israeli Prime Minister Yitzhak Rabin in 1995, which won a Peabody award and two Emmys. Michael Rosenbaum was a producer for "60 Minutes" and the "CBS Evening News." He retired from CBS News in 2008 after 27 years
Colleague and friend Martin Himel writes: CBS journalist Michael Rosenbaum passed away several weeks ago. Many of you did not know him . But for us who worked with him during the 1990's he will be greatly missed.
Michael was a personal friend of mine. I visited him during the last week of his life in New York. It was painful to watch him succumb to his cancer, but I am left with great memories of a good friend who's home and hospitality was always open to me in New York. Michael had an illustrious career with CBS News. He served as Tel Aviv bureau chief for seven years which included coverage of the first Gulf War and the Fall of Communism in Eastern Europe. Michael then held senior producing roles at the CBS Evening News working closely with anchorman Dan Rather. He then went on to win several Emmy awards for outstanding reports on CBS 60 minutes . He worked closely with Mike Wallace, Bob Simon, and others. His life was cut tragically short. We lost him too quickly. I will always remember him ,above all, as a valued friend.

2011

Dr. Francis Ofner, founder of the FPA passed away on March 9th 2011 in Tel Aviv. Diplomat, scholar, journalist: He was Axel Springer's man in Israel. Ofner was born in 1913 in the erstwhile Hungarian town of Ujvidék, which - as Novi Sad - is now the capital of the Serbian province Vojvodina. The lawyer, who had studied in Zagreb, Besançon and Lausanne, was - after his emigration to Palestine and thereafter in the newly founded State of Israel - diplomat, press correspondent, and even a university teacher. Always, however, Ofner's special affection belonged to journalism. In 1957, he founded the Foreign Press Association in Israel in 1957. As a kind of "roving reporter", but with intellectual depth, he reported from many countries in Europe, Africa, Asia and North America, until he settled down in Israel. Before becoming mainly the correspondent for the papers of the German Axel Springer publishing house, he worked for the Christian Science Monitor and the London Observer. Author of about 2000 articles in 200 newspapers worldwide. From Die Welt, for his 90th birthday in 2003 see full article in German :
http://www.csmonitor.com/World/Middle-East/2008/0509/p25s02-wome.html

http://joedresch.wordpress.com/2011/02/15/francis-ofner /

Former FPA Chairman, friend and colleague, Jay Bushinsky, remembers Francis:
Francis Ofner was the quintessential foreign correspondent -- incisive, diligent and objective. His career bears out these qualities. It includes a prolonged stint with The Christian Science Monitor and a unique professional and personal relationship with Springer Publications.
His lifelong commitment to coverage of foreign affairs and profound understanding of the special journalistic effort this entails prompted him to play a leading role in forming The Foreign Press Association in Israel 54 years ago. One of the underlying motives for this locally-unprecedented project was his awareness that as reporters assigned to foreign countries to cover stories that may or not be to their liking, the individual reporter could not and was not expected to act as a lobbyist reformer. He or she had to accept the local situation such as it was and cope with it. This applied to freedom of the press, access to scenes of breaking news or receipt (or non-receipt) of vital information from official sources. Those were things the FPA could and does do in its capacity as a professional association, precisely as he had envisioned.
One explanation for Francis Ofner's realistic understanding of foreign affairs was his service during World War II in the Office of Strategic Services (OSS), the forerunners of the American Central Intelligence Agency. This enabled him to understand and interpret governmental and military behavior at the highest level. His sophisticated reporting always reflected the experience he had in dealing with multi-national controversy and ideological conflict.
Throughout, he was a consistently sincere and sympathetic colleague, willing to discuss and tackle journalistic problems. It was in that spirit that he served as the FPA's first chairman and continued to participate actively in its activities throughout his career.
He always had important things to say at the annual general meetings and spoke out emphatically and cogently in its debates.
One of the most impressive aspects of Francis Ofner's years as a foreign correspondent was the special relationship that developed between him and the Monitor's legendary Overseas News Editor, the late Geoffrey Godsell. The degree of mutual confidence and trust between these two men was unparalleled. Having picked up his file in part at first and then in its entirety I knew that I was walking in the footsteps of a true master.
Francis Ofner also had a profound understanding of the State of Israel and its special problems. He knew this country from within and had a strong human grasp of the difficulties with which its population had to cope, especially in the case of Holocaust survivors who arrived in the aftermath of World War II. And always, regardless of the remarkable progress of his career, Francis was true to his cultural and social roots that were steeped in the pre-war lifestyle of his native Novi Sad, the exquisite town on the Danube that became part of the former Yugoslavia. His elegance and sincerity will be missed by all who worked with and alongside him.

Francis Ofner was an inspiration to all of us who worked as foreign journalists in Israel. He was, first and foremost, a sweet gentleman with so much refinement it was hard to imagine him as a journalist who dug into the nitty gritty of life -- but he did. From all that we learned about him, he was a major force in journalism in this part of the world -- and of course the founder of our own FPA. So many of us felt we knew Francis because he went out of his way to give us all a friendly hello and ask after us each time we met in person. His was a quiet, gentle personality. I personally will miss him -- he was such a permanent fixture in our careers and lives.
Robert Slater, FPA Chairman 1987-1990

From Richard Oestermann:
I am deeply saddened by the passing of Francis Ofner with whom I developed a friendship.His body was frail, but the mind was clear. A gentle person, a true gentleman, with a great sense of humor and always a twinkle in his eyes has left us. He was unceasingly interested in helping promote a worthy cause. If he could not express his thoughts in words, his kind eyes helped bring his ideas across. Several times I went to visit him in his flat in Rupin Street in Tel Aviv and I was struck by his genuine interest in sharing his knowledge of Israel with others, even at this late stage in his life. The FPA Who is Who 2011, is adorned with a great journalistic piece by Francis in "The Observer", under the headline "Israel Accuses Britain". Indeed Francis was a pathfinder. See http://www.fpa.org.il/?pageType=1&categoryId=14246&itemId=49863

Jerrold Kessel, veteran FPA member died on February 23rd 2011 in Jerusalem. CNN Bureau Chief Kevin Flower wrote the following: I'm saddened to pass on the news that former CNN Jerusalem correspondent Jerrold Kessel passed away Thursday morning in Jerusalem. He had been battling cancer and in recent weeks his condition deteriorated. Jerrold worked for CNN for 13 years from 1990 to 2003 during some of the most spectacular highs and lows of the Middle East and was one of the network's regular reporting faces from the region. He was a passionate journalist and a guiding force for many he worked with.
2010
Conny Mus. FPA chairman from 1990 until 1995 and again from 2009 until his passing on Thursday 19th August 2010.
In the name of Agence France-Presse, I would like to express my shock and deep sorrow at this very sad news. Please accept AFP's sincere condolences. We will not forget the availability, competence and kindness Conny shown recently in order to solve our [ recent ] problem. Best regards, Philippe AGRET, Bureau chief, Directeur , Agence France-Presse, Israel, Palestinian Territories

I was so very sorry to hear of Conny's untimely death. We served together for many years on the FPA board, and he was for me an inspiration, especially during his first terms as chairman. He combined a joy for both life and journalism with a deep understanding of the serious issues we confronted in a dangerous and difficult part of the world. I tried to emulate his approach also when I was chairman from 1999-2001. I left Israel in 2001 and took on more responsibility in new jobs. He has remained a model for me since. Howard Goller, Former FPA Chairman, Editor, Political & General News, US & Canada, Thomson Reuters.
Richard Oestermann writes : I just returned early this morning from a visit to Denmark and learned about the passing of Conny. I grieve over it.
I have a story about Conny - and me. At the peace conference in Madrid, I took a picture of him standing in line somewhere, and it came out so good that he said, "Richard, from now on you are my court photographer". Whenever we met since, he brought this up - the picture and his remark. It says a lot about Conny, sorely missed.


With great sorrow my wife Judith en me heard about the passing of Conny. He was a great help to me, especially in the beginning, when I just became a foreign correspondent in Israel. We all benefited from his contribution to the Foreign Press Association. Conny will be dearly missed! Alfred Muller
FPA members comment as follows:
Connie was a colorful, fun-loving, intelligent and endearing human being. He had a larger-than-life personality and he waded through life with a smile and good cheer. He was always extremely helpful to me when I served as chairman of the Foreign Press Association. I could rely on him to attend every meeting, respond to every email and phone call and provide much needed support in our attempts to ensure the free and safe practice of journalism in Israel and the Palestinian territories. He was part of one FPA delegation that traveled to Gaza to protest incorrect treatment of journalists. I believe his unique combination of infectious gregariousness and steely, "don't-mess-with-us" determination was instrumental in effecting a real improvement of our situation in the Hamas-ruled territory. Whenever there was a question about how hard we should come down on some offending party - be it Hamas, the Israeli government, Fatah or anyone else - his inclination was to take them all to task. But always in a thoughtful, considered fashion, and he also knew when to pull back. I will never forget the support and encouragement Connie gave me during the Gaza conflict, when we were in a high-stakes fight with the Israeli government for access into the territory. Not all FPA members agreed with our strategies at any given moment, and Connie's loyalty and support were a great source of strength for me during that time. For me, Connie's passing is a deep personal loss. Over the years, we became true friends. We spent a lot of time shooting the breeze in our offices in Jerusalem, my sons attended the same school as Connie's wonderful little girl Natasha and I could always count on Connie to provide a much needed laugh during the tension-filled days of covering the Mideast conflict. Connie Mus was a class act and I will miss him dearly. Steve Gutkin, Associated Press Bureau Chief and former FPA Chairman
I am so saddened and shocked by Connie's passing. Connie and I were close friends for so long. we served as journalists together, often seeing each other more than we saw our families. he was warm, smart, professional, just a decent man whose friendship i treasured. we served on FPA boards together; he followed me as chairman after i served from 1987 to 1990. he was not yet 60. That is young in my book and too early for him to leave us. please convey to his family that I send my condolences and that I wish the family no more sorrow. Bob Slater, former FPA chairman and TIME Bureau chief
Sadly for me I never got to know him as well as you guys. But my memories are similar, of a good-humored rough-and-tumble sort who was always supportive when needed. During my own FPA
chairmanship I remember Conny stood by me when there was some serious challenges by rebellious FPA members unhappy with various things -- not to mention neverending hassles with the GPO. He was always there with wise counsel, and as I find myself returning to Israel it seems almost
inconceivable to me that this high-flying Dutchman will not now be there. Dan Perry AP, Former FPA chairman

Like for many journalists freshly arrived in Jerusalem - meeting Conny for the first time was the real beginning of my assignment in the Middle East. The warmth, camaraderie, information and gossip he shared with such vigour over a glass or on a stake-out made even a newcomer feel included in the rich history of journalism in the region - a history that Conny represented so well. He was a journalist of immense experience and integrity who so many looked up to and who so many were lucky to call a friend. He was as far from the ego-driven 'talent' that so often pops up in front of the camera as it is possible to be - and understood and appreciated like few others the work that went on behind the camera to get him on air. He had a drive and a passion for the stories he covered, and I'll always remember the twinkle that would appear in his eye when things started heating up. I am lucky to have had him as a friend and a colleague and, like so many others, will miss him dearly.' Very saddened and shocked by this news, Julian Rake Reuters TV Singapore.
With great sorrow, I extend my sympathy and regret over the untimely death of our chairman and colleague, Conny Mus. I join those mourning our esteemed colleague, a fine person and an excellent journalist. Blessed be his memory. Jay Bushinsky, WINS Radio and former FPA Chairman
It was a big shock to me to hear about Conny's death. When I was working for The New York Times, Cox Newspaper and the Atlanta Constitution, I worked alongside him at events on and off for years. I always enjoyed his sense of humor and irony that accompanied his fine professionalism. May you treasure only good memories. Michael Widlanski
Jamil Hamad, veteran FPA member, former Board member and deputy chairman. Born in Rafat in 1938; moved with his family to Bethlehem after the War of 1948; studied Law and Journalism at Damascus University from 1959-62; worked as freelance journalist; Co-founder with Yousef Nasser, and editor of Al-Fajr daily newspaper from 1972-1974. Jamil was West Bank Correspondent for TIME Magazine from 1984 until his death in 2010. He received the Overseas Press Club Award in 1985 for his coverage of the assassination of Israeli PM Yitzhak Rabin. He was joint winner of the Henry R. Luce Award for reporting on the battle of Jenin in April 2002.
http://swampland.blogs.time.com/2010/10/20/jamil-hamad/ http://www.time.com/time/magazine/article/0,9171,2026907,00.html
FPA Members remember Jamil -

Jamil Hamad was a distinguished, wise and well-informed colleague who never flinched
at reporting or saying the truth regardless of the personal risks he took or dire consequences he faced.
His career reflected these attributes from the time he served as editor of the daily Al-Fajr, of which he was was the co-founder after the Six-Day War and circulated in Jerusalem's former Jordanian sector, the West Bank and Gaza Strip. He pursued an independent editorial policy throughout and provided his readers with articles composed in brilliant Arabic, often compelling his loyal readers to read and re-read them to exact all the sophisticated implications and inner meanings.
Shortly after Al-Fajr's abrupt termination (in the aftermath of its publisher's mysterious assassination), Jamil was invited to join Time's Jerusalem bureau 23 years ago.
During his stint at Time, he won the Overseas Press Club Award in 1995 for coverage of the late Prime Minister Yitzhak Rabin's assassination as well as the Henry R. Luce Award for coverage of the battle of Jenin in 2002.
He joined the Foreign Press Association in Israel immediately after joining Time and was elected to the post of deputy chairman. In that capacity, he made contact openly and freely with Israeli government ministers, even sharing a friendly drink at the former Hilton Hotel with the Prime Minister Rabin. He also was on especially good terms with former Defense Minister Moshe Arens.
These friendships ran parallel with his wide-ranging contacts with major Palestinian leaders and his unique insight into the political and economic affairs of the various organizations that operated in the areas under Israeli control.
Jamil's work at Time was exceptional. It won him bylines and admiring references throughout his stint as a foreign correapondent. As a regular participant in the weekly panel discussion sponsored by MGI News and broadcast throughout the world, Jamil astounded the Israeli panelists and myself as moderator by speaking frankly and fearlessly about what he regarded as serious defects in the Palestinian and Arab leadership (currently and historically).
He also was a charming conversationalist and raconteur, an attribute that was exemplified by the informal get-togethers of Palestinian and Israeli friends and colleagues at his former office on Jerusalem's Salah e-Din Street. I always will be indebted to the late Victor Cygielman, corresopndent of Le Nouvel Observateur and Le Soir, for having introduced me to Jamil, thereby launching a personal friendship that lasted more than 40 years.
Jamil's charming wife, Raida, and their three sons, Suheil, Sadir and Haitham, reflect the sparkle of his charismatic personality and profound human values -- truth, courage. mutual respect and culture. Jay Bushinsky


I don't think we have to elaborate on the excellent qualities of Jamil Hamad as a journalist. On a personal level he was in many ways a victim of the Israeli- Palestinian conflict. He was a refugee and suffered the daily problems of living under occupation. One of his sons was shot by Israeli gunfire. He put his life in danger, every time he reported from the West Bank and the Gaza strip. When times were different and he wanted to become a member of the F.P.A. his application was denied. Later on as things changed , as we know, he was not only a respected member of the F.P.A., but also a board member who took care of the interests of all his colleagues. As a co- board member for years I have seen this time and again. He was a special man. Bye friend, Willy Werkman

All who met and knew him will miss him. Nahum Sirotsky, Radio Gaucha, Brazil.



In Memoriam Alex Izbicki -- People who think with their hearts are hard to find. Alex Izbicki was one of them. As a young journalist I became in the eighties the Editor of the oldest Jewish Newspaper in the German langugage: The "Israelitisches Wochenblatt für die Schweiz" (published in Zurich).
The first meeting with Alex Izbicki was short and the mission was clear: the reader must read not only local events but also has to see them . And Alex and photographed tirelessly around the clock: local events, big reports and unique portraits of all the visitors who came from Israel to Zurich: Chaim Herzog, Shimon Peres, Menahem Begin etc....
Alex and his Pentax cameras were everywhere. All this he did between night and day - he had, at the Zurich Hegibachplatz a successful photography shop, which he led with great dedication. In Zurich, he was one of the leading Pentax specialists, so successful that Pentax invited him as a guest of honour to Tokyo.
To Alex Izbicki I owe so much . He helped me with local editorial decision, he knew the Jewish community from A to Z. And they all knew him. Alex Izbicki, this deeply religious and always open-minded man was born 1923 in Geneva as the son of Paula and Leo Izbicki, he came to Zurich in 1933. Private happiness he found at the side of Marlyse Emanuelle Gradwohl, the marriage was crowned with a son: Michael. They followed his aliyah only eight months later. And Israel became for the hard working and talented photographer in many ways again a success story: his photos were everywhere in demand.
The happiness on the side of his wife and his son was crowned ten grandchildren. In January 2009, Alex became ill, he slowly lost his physical strength.
Alex and I worked hand in hand. I adored him with all my heart - as a photographer, a media professional, as a man with an extensive political and religious education. And as a man who gave his heart of gold to all of us.
May his memory be a blessing to us all. Pierre Rothschild


2009
The FPA wishes to express its heartfelt sympathy and condolences to the family of veteran FPA member Shraga Har Gil.

Shraga Har-Gil was hardly out of his teens when he returned to his native Germany, the country from which he had fled with his parents in the mid-1930's. He came back as a soldier in the Jewish Brigade, the combat unit mobilized in Palestine at the behest of the Jewish Agency and with the initially-reluctant consent of the British mandatory government. Before he left this country and especially after he came back, he served in the underground Haganah and then, with the outbreak of Israel's War of Independence, he fought as a soldier in the IDF.
After his military career, he entered journalism, working in the Hebrew-language press -- mainly in the then-new daily Maariv.
Consistent with his restless spirit and boundless energy, Shraga expanded his journalistic activity by becoming a foreign correspondent. In that capacity, he filed for German newspaper readers and went on to become an author as well.
His books, which he also penned in German, were very well received.
Shraga was a lively and enjoyable conversationalist, able to swap stories with unique gusto and genuine emotion. He focused on human interest and decency and became an ardent advocate of rapprochement between the peoples of Germany and Israel.
Contributed by Jay Bushinsky.

The FPA wishes to express its heartfelt sympathy and condolences to the family of veteran FPA member Amnon Kapeliuk who passed away in Jerusalem on Friday June 26th 2009.
"The journalist and well-known leftist, Amnon Kapeliouk, died Friday at the age of 78. Kapeliouk, one of the oldest active journalists in Israel, had worked for Al HaMishmar and Yedioth Aharonoth, as well as Le Monde and Le Monde Diplomatique. He was also known for his close ties to Yasser Arafat and other leaders of the Palestine Liberation Organization.

Kapeliouk, a native of Jerusalem, began writing in the 1950s for the Israeli daily Al HaMishmar. He covered news from the Arab world as well as the activities of Palestinians in Israel and the territories. Kapeliouk's published works include a biography of Yasser Arafat, as well as a detailed investigation into the Sabra and Shatila massacre. According to Uri Avnery, another bastion of Israel's left and veteran journalist, "Kapeliouk belonged to a group of reporters from the occupied territories who did an excellent job after the occupation. It was a glorious time for Israeli journalism, covering what was going on in the occupied territories in a way that was unparalleled. When they [this type of reporter] disappeared, the reporting on the occupied territories was transformed into government communiques."

During the first Lebanon War, Kapeliouk interviewed Arafat in Beirut. According to his spouse, Olga, Al HaMishmar refused to publish the interview, and as a result he moved to Yedioth Aharonoth. Kapeliouk was also one of the founders of B'Tselem, the human rights watchdog in the territories
Eric Silver, FPA Chairman from 1975 to 1976, has died in Jerusalem.

DON MACINTYRE hails a collection of classic dispatches by the great and sadly-missed Jerusalem Report staff reporter
From The Jerusalem Report, issue dated April 9, 2012
Eric Silver was never a man to wallow in nostalgia. Reminiscence about past glory days, a failing to which journalists are too often prone, was not his way. Which would have made it easy to forget, had his wife, Bridget Silver, not brought together so much of his finest writing in "Dateline Jerusalem," what a wonderful body of work he would leave behind him.
The pieces, with their political insight, their eye for the telling detail, their freshness and their humanity, fully justify the old maxim – often stated but much less often fulfilled – that the best journalism is the "first rough draft of history."
Eric almost always knew the answers but if occasionally he didn't he would know someone who did
And what a slice of history. The book runs from his first visit after the Six Day War , though his period as the "Guardian's" full time correspondent, from the Lod Airport massacre to the first Lebanon war and its aftermath, and then from the late 80s after his decision to live in Israel and his conspicuously successful reinvention of himself as a freelancer.
For a newly-arrived Jerusalem staff correspondent on the "Independent," as I was in March 2004, Eric, by then the paper's resident part-timer (though that hardly does justice to the depth and breadth of his role) was simply the ideal mentor/workmate. Never pushy, interfering or didactic; always available to give counsel, share telephone numbers from his unrivaled list of contacts, dispense Johnny Walker Black Label and sympathy. And, if he spotted you making a serious error, he told you – in private – in a firm but gentle way that ensured you would never do it again.
If you consulted him on matters, historical, cultural, political religious, in the hideously confusing maelstrom that engulfs the Jerusalem correspondent, Eric almost always knew the answers but if occasionally he didn't he would know someone who did. "And you can mention my name, if you like," he would say modestly. And of course it helped if you did.
Pressure was never visible between the lines of his invariably elegant, unhurried prose
Right into his seventies Eric wanted to add value to a story and to go out into the field if he could; a fine, if random, example is the "worst of Israel, best of Israel" piece written under massive time pressure (pressure which, as always with Eric, was never visible between the lines of his invariably elegant, unhurried prose) from the Alyn Hospital in Jerusalem where the little Palestinian girl Maria Amin had been brilliantly treated after being crippled in an IDF air strike on Gaza.
A drink or a meal with Eric was always notable for what the Irish call the craic, the wit, and for the curiosity about the world which had animated him throughout his career. He was a gentleman in the best of senses, whether it was making sure that the "Independent's" Palestinian fixer in Gaza was adequately paid for his time, or displaying his great hospitality as a host.
As Phil Reeves, the "Independent" correspondent from 2000-2003, wrote when Eric died in 2008 at the age of 73 after succumbing to pancreatic cancer: "Eric was a man of great decency and kindness who never allowed our grubby business to compromise his dignity."
'Dateline Jerusalem' is available online at Amazon, Book Depository, Waterstones, and Barnes and Noble and book stores in the UK
http://thejerusalemreport.wordpress.com/2012/04/09/eric-silver-gentleman-journalist/ with permission.
2007

Agence France Presse wishes to express its great sadness for the loss of one of its photographers, Sven Nackstrand, 58. Sven passed away in Upsala, Sweden, surrounded by his wife Gila and their three boys, after 4 months trying to beat cancer. He lost that fight and we lost a great friend, a much appreciated man and a very skilled and talented photographer. We talked on the phone 3 weeks ago. He was very optimistic and so was I, knowing this big guy, the "Viking" as we used to tease him. We even planned to go and fish together with Menahem Kahana, in Sweden, next month. Doesn't fit him to go that way. He's going to be missed by all of us who knew him : his perpetual good mood, his calm under all circumstances, his great professionalism, his courage also and of course the endless laughes at ... Archibald's bar, on K St, Washington when together we "discovered" America almost 20 years ago. Memories are coming back to us now on this very sad occasion, and we shall never forget some of the assignments we did together in Israël, Palestine, and the US, not so long ago. My heart goes to Gila and the boys. So long my friend. Here is what AFP put last night on all wires - Patrick Anidjar, Bureau Chief AFP Jerusalem :

Sweden-Israel-media-AFP,OBIT
AFP photographer Sven Nackstrand dies, aged 58
=(PICTURE)=
STOCKHOLM, Dec 18, 2007 (AFP) - Swedish photographer Sven Nackstrand, who worked for Agence France-Presse for more than 20 years covering primarily the Israeli-Palestinian conflict, died Tuesday of cancer, his family said. He was 58.
Appropriately nicknamed "the Viking" by his colleagues, the tall, blond-haired, mustachioed Swede, who was always professional, calm and courageous in the face of danger, passed away surrounded by his family at the Uppsala hospital in Sweden.
The cancer, diagnosed in July, abruptly ended the life of a man whose tenacity, wry sense of humour and physical strength had only a few short months ago made him seem invincible.
"I never saw anyone as laid-back. I never saw him get upset," said Patrick Anidjar, who is AFP's current bureau chief in Jerusalem and worked with Sven from the beginning.
Born on December 8, 1949 in Sweden, Nackstrand's decades-long relationship with Israel began in the early 1980s when he served with the UN forces in Sinai after the signing of the Camp David accord between Israel and Egypt.
During his tour of duty, he met an Israeli bank clerk, Gila, who soon became his wife and with whom he had three sons.
While in Israel, Nackstrand quickly turned his passion for photography into a career, first for the Gamma photo agency and then, starting in 1985, for AFP.
His photographs circled the world, telling the many tumultuous stories of the region, including the two Palestinian Intifadas in 1987 and 2000, the first Gulf War, the 1994 Oslo Accords and subsequent disintegration, and the assassination of Israeli prime minister Yitzhak Rabin in Tel Aviv in November 1995.
After nearly two decades of covering conflicts and violence, Nackstrand in 2003 opted to swap suicide attacks and air raids for sporting events and cultural happenings in his native Sweden, where he became head of AFP's photography service in the Nordic region.
fk/nl/po/boc

* * *
I am so terribly saddened and sorry to hear this. I fell out of touch with Sven years ago but will never forget his calmness under pressure or how much fun he was. Sven and I shared the unenviable task of arranging pools for the foreign press during the 2000 visit of Pope John Paul to the Holy Land. We had to work with Israel and the Palestinian Authority to organise it all, and that was the easy part. We also had to accommodate our members' demands for access to the many events that took
place during the historic pilgrimage. Sven made the job fun. His sense of humour and his understanding of fairness made me proud to team up with him. I will never forget him.
Howard Goller,
Reuters, Washington
[Howard Goller was FPA chairman when Sven served on the Board as the representative for the stills photographers]
* * *
I was so saddened to hear the news of Swen's passing. He was one of the stalwarts and constants in my career as a journalist in Israel dating back to the 1970s. He and I always bumped into one another at news conferences and all the other places journalists meet. I always enjoyed him, and we always exchanged hellos. He was someone whom I simply liked very much. Yes, all the things said him now, that he was courageous, professional etc. are true. But what stands out in my mind about Sven is his gentleness and his amiability. I shall miss him. Robert Slater
FPA chairman 1987-1990 and Bureau Chief for Time Magazine in Jerusalem


Dave Lancashire, a one-time FPA member who was AP news editor in Tel-Aviv 1972-76, has died in Toronto. This is his AP obit:

TORONTO (AP) _ David Lancashire, a Canadian reporter hired by The Associated Press in 1956 to become the first North American to cover Mao Zedong's China and defy a U.S. travel ban, has died. He was 76.

Lancashire died Monday in Toronto of a heart attack, his family said Thursday.

As a reporter for The Associated Press, Lancashire spent six weeks traveling more than 5,000 miles (8,046 kilometers) through what was then known as "Red China" and produced a lengthy series of stories on life behind the "Bamboo Curtain."

Over the following 20 years he covered trouble spots throughout Asia and the Middle East from bureaus in Tokyo, Singapore, Bangkok, Beirut, London and Tel Aviv until he resigned in 1976 to join the Globe and Mail of Toronto as a feature writer and editor. He retired in 1994.

Lancashire reported on the communist insurgency in Laos, the revolt that split Syria from the United Arabic Republic, the rebellion in Yemen, a Kurdish revolt in Iraq, and Shah Mohammed Reza Pahlavi's reforms in Iran despite opposition from Muslim leaders.

A feature from Jordan in 1966 on rebuilding the Hejaz Railway, destroyed by the legendary Lawrence of Arabia, was widely published. In it, he described a "line of shattered stone forts hiding the skulls of Turkish soldiers, 519 miles of ripped up track and an abandoned trail through the wasteland."

"He was one of the finest foreign correspondents I knew, a man of enormous courage, curiosity and openness to all things foreign, a gentleman and friend to all who knew him," said Marcus Eliason, a fellow AP reporter and editor in New York.

Lancashire served as news editor of the AP bureau in Tel Aviv from 1972 to 1976, covering the 1973 Yom Kippur War and the Israeli-Palestinian conflict.

His reporting from Mao Tse Tung's China in 1956, the first by a North American journalist since the communist takeover in 1949, was a sensation at the time.

The State Department in 1956 refused AP permission to send an American correspondent to China and threatened serious sanctions. AP's board of directors objected and hired Lancashire to report on China despite the ban.

"The Associated Press disagreed with the government's action and the board at this time states again that it believes qualified newsmen should be allowed to report firsthand from the mainland of China," AP said in a statement issued in 1957.

Journalists protested that the travel ban infringed on the right of the people in the United States to know through their own reporters about conditions in China.

In a prescient story date December 15, 1956, written from Hong Kong after his departure from the mainland, Lancashire wrote:

"Red China today is an immense machine with 600 million moving parts, running at top speed. Its 600 million individuals are sacrificing individually at Communist behest in an all-consuming drive to change a backward, poverty ridden nation into a modern state."

"China has the largest labor force in the world. And with the straining sinews of the 600 millions, she is struggling to reach a fantastic goal _ to leave the middle ages behind and equal the United States in industrial power by the year 2000."

His last story, published in the Toronto Globe on August 11, 2007, described a 1962 trip to Yemen, where he covered a revolution for AP that ended 1,100 years of monarchy.

Lancashire is survived by his widow, Deedee, and two sons, Adrian and Michael, and two grandchildren.

Victor Cygielman, a veteran member of the FPA and a former correspondent for Nouvel Observateur in Paris, has died after a long illness. Together with Ziad abu Ziad, Victor founded the Palestine - Israel Journal in 1994. FPA 10.05.07.
Palestine - Israel Journal of Politics, Economics and Culture http://www.pij.org
Members remember Victor:
It must have been a great loss to his family, but not only to his family. Victor was a real friend and the kind of a perfect journalist one would love to learn a lot from. When we first met, I was a young journalist working in East Jerusalem's Al Fajr daily in the late 70s. Victor visited us in the newspaper a few times. We had lots of candid discussions and a very close relationship developed between us. That friendship was based not only on journalistic grounds but also political, somehow.
Victor had a great listening ear. As a managing editor of Al Fajr, and later managing editor of Al Fajr English weekly, followed by Al Awda English weekly throughout the 80s, my relation with Victor only improved and developed to engage in clear political discussions about the future of this region. I have always felt the kind of encouragement from him every time I spoke of the two state solution, at a time when rhetoric of nationalism-loaded journalism throughout the Arab world, considered such thinking a sort of taboo.
Victor, on so many occasions, was for me the world's eye through which I managed to see the Arab-Israeli conflict from a third perspective, not that of the occupiers and not that of the occupied.
Victor, you were a friend and a mentor not only in the school of journalism but also in the school of life.
May your soul rest in peace. We shall always remember you. Elias Zananiri, Jerusalem 14 May 2007
Victor was one of the first foreign journalists I came to know when I started working in Israel in 1967. I met a very well informed journalist, a compassionate man who with me being Dutch and he himself having been born in Belgium - spoke in the beginning Flemish with me. We became a very good friends Together with my former husband, Salomon Bouman, we admired his insights in the Middle East scene. After he founded, together with Ziad abu Ziad, the Palestinian - Israel Journal, we admired his passionate pleas for a peaceful co- existence between Israelis and Palestinians.Lately he was very ill. He suffered. When I saw him not long ago I said silently "goodbye". Now I want to add: "Thank you, Victor, for who you were". Willy Werkman
2006
27.11.06 Veteran Dutch journalist and author Edna Heruthy dies. Heruthy was a radio correspondent for many years and the author of several books. Jewish Historical Museum | Resource Centre: Heruthy...
2005

3.5.05 Ross Dunn, former Jerusalem correspondent for the Sydney Morning Herald and The Age of Melbourne, valued contributor to the Voice of America, died in Australia on Tuesday. He left Jerusalem last year after being diagnosed with cancer. See obit below.
He fought the good fight in the world's hottest spots: Ross Dunn, Journalist, 1955-2005
Ross Gordon Dunn, who has died in Sydney aged 49, was a diligent and much-published correspondent who spent the last 15 years of his career covering hot spots in Africa and the Middle East.
Over the years, he reported for many news organisations in Australia and overseas including The Sydney Morning Herald, The Age, The Australian Financial Review, the ABC and SBS.
He also worked for, among others, the London Times and The Christian Science Monitor and was a regular contributor to Germany's Deutsche Welle TV and Voice of America.
Lachlan Shaw, a fellow Australian correspondent working in Israel, reckons that at one stage Dunn was servicing eight news outlets in three continents.
By insisting he witness events he was reporting on, Dunn often found himself in dangerous situations. In South Africa he was shot at by police, and several times was caught in crossfire during Israeli-Palestinian gun battles.
Dunn had a gentle, sensitive and sometimes secretive nature, but outwardly he was gregarious, gracious, and renowned for his practical jokes and impish sense of humour. He used to joke that all subeditors had a secret button on their keyboards called the BLB - the Best Line Button. Hit the button and it would automatically search out the best line in the story (in the reporter's view) and delete it.
But he also had a righteous indignation, which he aimed at hypocrites, shysters and bullies. He would fight the good fight long after others had given up. Dunn also had an amazing recall for long-forgotten incidents and facts, and this is partly what made him such a first-class reporter and an entertaining companion.
Covering the bittersweet final years of South Africa's apartheid regime and later the remorseless grind of the Israeli-Palestinian conflict could have left him cynical and detached. Instead, he retained his self-deprecating sense of humour and an empathy for many who were the subjects of his stories or the victims of the conflicts he covered.
Take the case of Sasha Elterman, a Sydney teenager who was one of 43 Australian competitors injured when a bridge collapsed at the opening ceremony of Israel's Maccabiah Games in 1997.
Dunn covered the tragedy and its aftermath, particularly the plight of Elterman, who was admitted to intensive care after falling from the bridge into a river and swallowing its polluted waters.
Inspired by the 15-year-old's courage during her long convalescence, he named his first born after her, bringing his young daughter back to Sydney in 2000 to visit Sasha and her family.
After graduating from Macquarie University, Dunn began his career in journalism in 1980 at the Parramatta Mercury, where he covered sport and police rounds. In 1981, Dunn joined the Herald as a cadet reporter. In 1983, after a stint reporting from the Herald's Newcastle office, he was assigned to the State Parliament bureau.
There he extracted one of the more memorable rhetorical responses to come out of Macquarie Street. Poking around the pecuniary interest register, Dunn was surprised to discover that the Labor government's minister for education, Rodney Cavalier, owned substantial holdings of BHP shares. How could this be? Dunn inquired of the staunchly left-wing minister. Cavalier replied: "There is nothing in the socialist scriptures which says that someone should impoverish themselves during the capitalist phase."
In the mid-1980s, Dunn made the leap to federal politics, transferring to the Herald's Canberra bureau before moving down the corridor to the offices of The Australian Financial Review in 1988. The following year he decided to leave the safety of a full-time position and the rustic charms of Canberra for the perilous existence of a freelancer in a South Africa that was still in the grip of apartheid.
He soon learned that to be a successful free agent, a stringer had to be prepared to hawk his wares and to work for many masters across numerous time zones - a completely different dynamic from the one he had been used to.
In 1993, he was nominated for a Walkley Award for his coverage for The Age of the massacre at Ciskei when security forces in the South African black homeland opened fire on African National Congress supporters, killing more than 30 and injuring scores more.
A year later, he was also on the spot to cover the historic election of Nelson Mandela and the end to 40 years of minority white rule.
Correctly predicting a softening in the media's interest in post-apartheid South Africa, Dunn left for Israel in 1995.
In the decade since, he has covered all the big stories coming out of Israel: the intifada, the peace efforts, suicide bombing and Israeli military incursions into the Palestinian territories.
He was also one of the first to write about rampant corruption in the Palestinian Authority because he fervently believed the Palestinian people deserved better than to have their own corrupt officials squirrel away public funds into Swiss bank accounts.
Never one to assume he knew it all, he would take time out to talk to both Israelis and Palestinians so that he could understand their perspectives and broaden his knowledge of the root causes of the conflict. It is a testament to his impartiality that he can count many friends from both sides of the conflict, all of whom are mourning his death.
Dunn returned to Australia with his young family in mid-2004 after he was diagnosed with stomach cancer. He died last Monday, after an eight-month battle.
He is survived by his wife, Rosana, daughter Sasha, 6, son Daniel, aged seven months, his parents, and three siblings.Stephen Hutcheon with the assistance of Ross Dunn's friends, and family
Sydney Morning Herald.
Veteran FPA member Theodore Hatalgui has died in Jerusalem.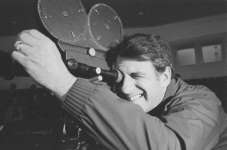 Rolf Kneller Photo courtesy of David Rubinger

ROLF MICHAEL KNELLER

This most veteran among Israeli cameramen, died Thursday 21 July 2005.
Rolf, who taught and guided a large part of the generation that now mans TV and News cameras , was born in Berlin 1921, immigrated to Palestine in 1939 and served with the British Forces in North Africa in World War-II.

In the early years of his career he filmed documentaries and features in then Palestine. One of the major films he photographed was "My Father's House", the story of Bet Harava.

Among the great names he worked with were Ed Murrow, Danny Kaye, Frank Sinatra and many others. In 1957 he joined London based "Visnews" and served as their Bureau Chief in Israel till his retirement in 1980
2004
The FPA expresses condolences on the death of veteran FPA member Heinz Wolman April 2003.
17.10.2002 Photographer Andre Brutmann :The FPA wishes to express is deepest sympathy with Hanne, Sirah and Adam on the untimely passing of Andre.
The board and membership of the Foreign Press Association extend their condolences to the family of veteran FPA member Teddy Levite who passed away in Tel Aviv yesterday.29.12.2004.
http://www.welt.de/data/2003/07/18/136558.html
Bruno Wassertheil (CBS) died in California 3 March 2004. Bruno was one of our most esteemed foreign journalists dating back to

the earliest days of foreign press coverage in Israel.